Certified 3 in 1 Permaculture Design Course with hands on experience! @ Azula, Portugal, April 15th – May 18th 2018
Azula and Surplus Permaculture Design are excited to invite you on a one month journey into everything that is Permaculture. Not only will you complete a certified PDC, you will also gain valuable hands on experience during our Natural Building and Organic Gardening workshops as well as becoming an integrated member of the Azula community.
April 15th – May 18th 2018
 This is a month like no other – full of knowledge, discovery and hands on practicals. If you have an interest in becoming more self reliant, living off the grid, building your own home, growing your own food or living in community – then this will be an incredible opportunity to learn the skills you need to go out and achieve your dreams.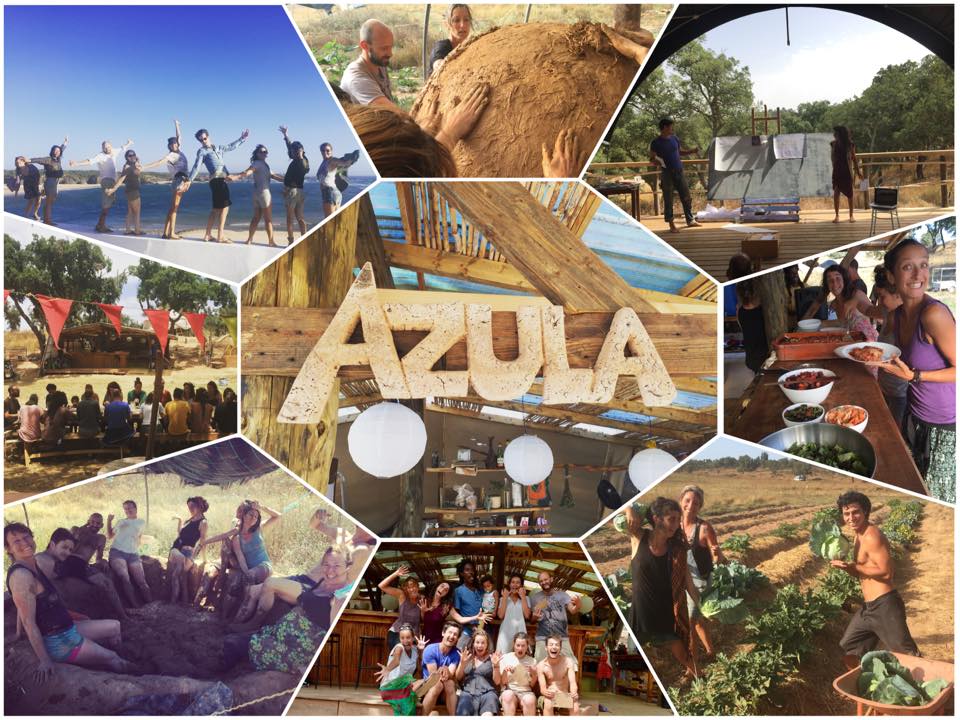 This internship is made of 3 modules;
A certified 72 hour Permaculture Design Course – A PDC is an internationally-recognized, 72-hour theory course resulting in a Permaculture Design Certificate. To date, thousands of permaculture designers worldwide have been certified through this course, and now comprise a global network of educators, ecological activists, consultants and practitioners who are influencing the decisions of major corporations, small business and people from all walks of life to change the way we view and design our landscape, our surroundings, our relationships and our daily lives so we can grow the revolution that our planet needs.                                                                                                                                                                                            
A week long hands on Natural Building Course – The best way to learn how to build with earth is to get connected to the earth, to get your hands and feet emerged in mud and let you creativity and knowledge grow. This course will cover ancient and modern building techniques (cob, adobe, earth bags and rammed earth), theory sessions (ecological house design, soil types, how to build an earth house) movies and presentations. You will tap back into this forgotten practice and leave feeling inspired and empowered to build a better future                                                                                                 
A week long Organic Gardening Course – This workshop will be focusing on Organic gardening, teaching you the fundamental techniques and knowledge to get you started with growing quality, fresh, organic vegetables all year round. From the urban balcony to the rural farm this workshop will teach you how to grow more veg in less space than you ever imagined to be possible! Maximising your available space and producing an abundance of nutritious and delicious vegetables, herbs and fruit.
Additional Activities
Apart from the above courses you will also have the chance to participate in our  yoga sessions, try out Capoeira and Acroyoga  – for no extra cost of course. If you play any music instrument bring it along and join in for some live jamming that we often have in the evenings. We have a beautiful lake on site where you will be able to bathe as you wish during breaks and free time and we are only a 15 minute drive to a beautiful beach. The Azula community wants to create a safe and welcoming place for you to try new things, experiment, laugh and let go, to explore a deeper connection with yourself and with the natural world in stillness and tranquility. You will learn so much during this month, but having a great time is also the goal, so come with an open and relaxed mindset and make the most of your experience!
The Accommodation:
Accommodation during the course will be provided in dorm tents with comfortable mattresses and pillows. However for those that would prefer more privacy there is the option to rent a private bell tent for a maximum of 2 people at an added charge of € 40 a day. They are in private and beautiful surroundings in close proximity to toilets and showers. We have limited tents so booking them in advance is a must. If you prefer, you can also bring your own tent and camp on the designated areas. Please be flexible about your sleeping space. If for some reason you would strongly prefer to be in one space or the other, please let us know, and we will try to make that happen for you.  

Food: 
Fresh and organic vegetarian food will be provided throughout the course and will be sourced from the farm itself and the local market. Special dietary needs can be accommodated for but please let us know in advance.
Cost:

Price: € 1200 (Euros)
Early Bird Discounts: Get in there early and secure your month long Permaulture experience for only €1100  (Euros) if you sign up before December 1st 2017!
This price includes all your meals, a comfy bed in the bell tent-dormitory for the duration of the month, transportation to and from the farm to Sao Luis (picking up on April 15th and dropping off on May 18th) and all course tuition and materials. 
We ask all registrants to make a deposit of €200 (plus €4.95 transaction fee) to secure your spot and the remaining fees (€1000) be paid on arrival or transferred to the Azula bank account.
Azula would like to be as transparent as possible with their finances, as an example to other projects and to be open and honest with visitors and students, who each contribute so much to the building and development of the farm and community. Azula is currently funded by its founders but they want to create a more resilient economic model by diversifying their streams of income. Creating a volunteer program and by running courses and workshops will help develop the systems on the land. The money paid for your course fee will be divided between Azula project and the facilitators, meaning Azula can go forward with developing the project and purchasing of materials, and the facilitators can continue with their passion to teach and inspire. 
Please Note:
In the unlikely event of us canceling the course your deposit will be refunded in full, additionally we will not be held responsible for any financial losses accrued. Deposits are non-refundable if you chose to not participate in the course. We will accept late bookings if there is space available.
Fundraise for your Tuition
If you are interested in a creative way to come up with funds for this course, look into fundraising for it through WeTheTrees.com. It is a great way to reach out to your family and friends, let them know what you are up to and give them a easy way to contribute to your education.
Contact information:
Please feel free to email us on info@azula.bio for any additional information you may need.
 Meet the  Facilitators: 
Lola Bryon
Lola Byron is a Permaulture facilitator, practitioner and consultant, traveling the globe with her young family and connecting with Permaculture projects. Originally from Birmingham, England, she has been a thriving Permaculturist and natural builder since completing her PDC back in 2010. Following this she was an active urban Permaculturist; designing and implementing a variety of community gardens and co-facilitating natural building and gardening workshops in and around the UK. With a background in studying then teaching Fine Art, Sculpture, when she discovered Permaculture and building with earth she knew she had found her calling in life and she loves to apply these artistic skills to create beautiful buildings from earth, specialising in adobe, cob and earthbags. Having now completed 6 house builds (project managing 4 of these) she is always excited to pass on her knowledge to inspire and empower others to re-connect with the earth, make positive changes and become more self-reliant. Lola was the natural building manager at Panya Project, Thailand for 3 years, where she taught numerous PDC's, hands-on Permaculture and Natural Building Courses, and co-managed the volunteer and intern program as well as the daily running of the farm. Lola recently joined Surplus Permaculture Design, an international collaboration of Permaculture designers, as a consultant and project manager.
Kyle Smith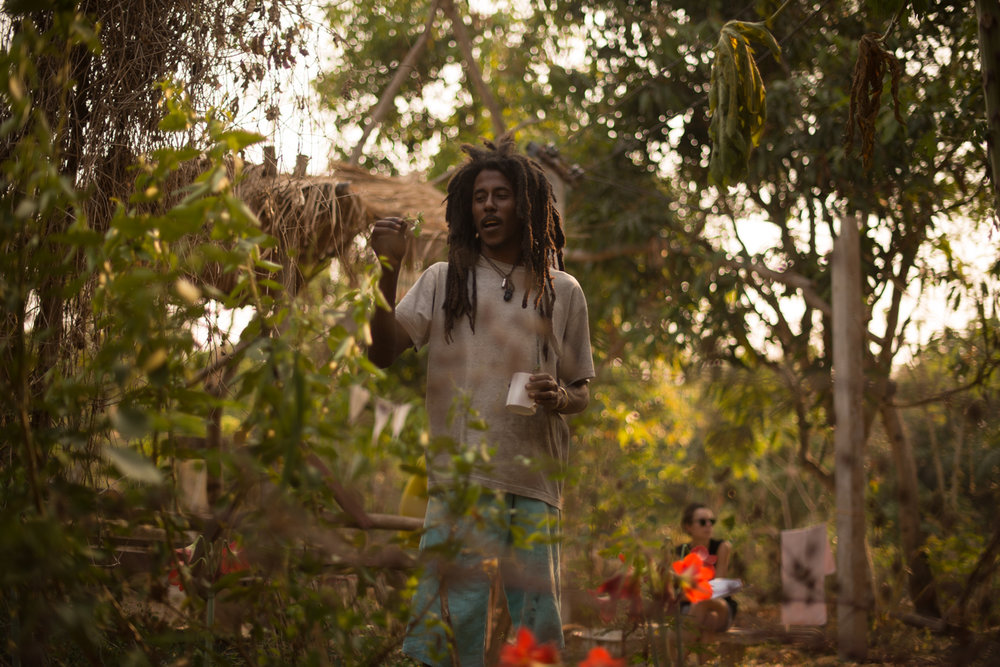 Kyle has practiced horticulture and community living on a kibbutz in Israel where he was inspired to pursue a career in horticulture. During his studies he completed an internship at Soil for Life, a Cape Town based non-profit organization teaching people how to build the soil and grow healthy plants using organic and low-cost methods.  After completing his studies in horticulture he worked at Kirstenbosch Botanical gardens in Cape Town, South Africa. His main focuses were conserving indigenous plant species, rehabilitating degraded ecosystems, designing and establishing education gardens on the grounds of the botanic garden. Kyle recently left his position as the perennial plant manager at Panya Project, Thailand, where he spent 3 years teaching, designing and co-coordinating the volunteer and internship program. He is currently a nomadic permaculture consultant and teacher; traveling and connecting with Permaculture projects around the world. Kyle is also a designer and consultant for Surplus Permaculture Design .He  is passionate about conserving soil ecosystems, plant propagation and small-scale ecological agriculture. He is working towards empowering people to grow their own food, become more self reliant, and regenerate degraded ecosystem.
Azula is a place, a project and the home of two families that share the same vision, to raise their children in a beautiful safe environment and to cultivate their land and themselves to enjoy life fully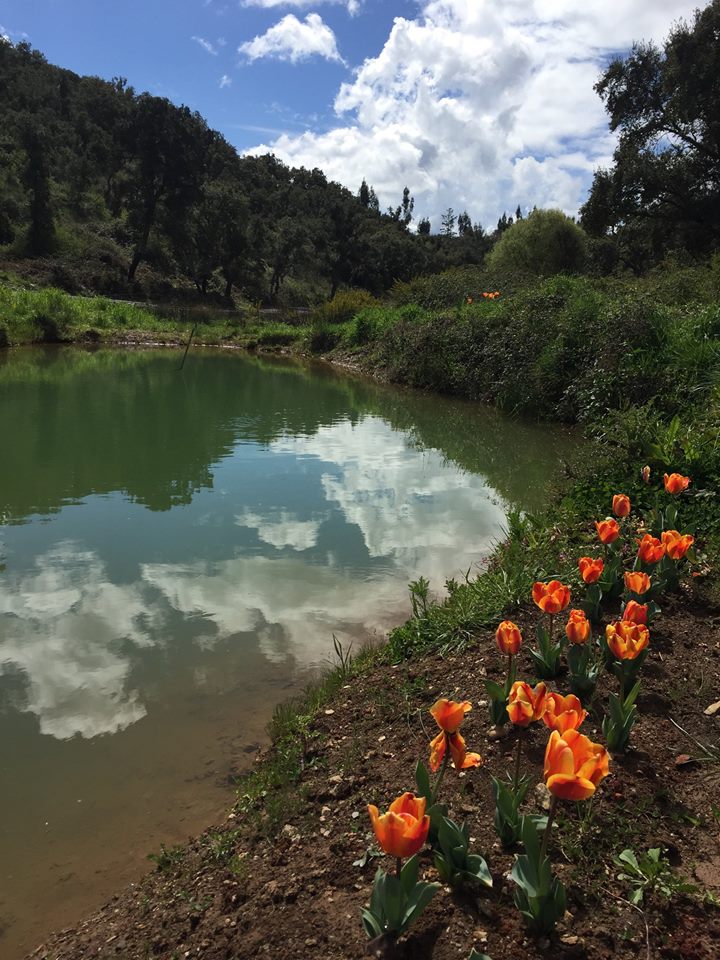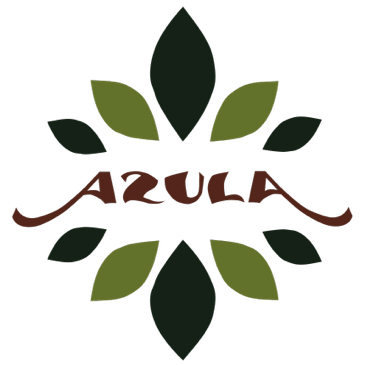 Founded in August 2016, in the beautiful Alentejo region of Portugal. The founders are full of enthusiasm,passion, determination and knowledge, and they are transforming this previously heavily grazed land, into an abundant off the grid farm by applying fully integrated Permaculture design systems. This is a fantastic opportunity to see how you can really make dreams into reality by designing and building a Permaculture project from scratch. Not only will you be partaking in a two week immersion into permaculture, but you will also be part of the beautiful Azula community and thereby learn how to live and thrive with people from all walks of life, go back to basics and becoming more connected with nature. Our aim is to create a supportive learning community for the duration of the course where trust, compassion, support and connection is built among participants, facilitators and community members.
To find out more please visit the Azula website