Back to Basics – The Permaculture Way, KZN, South Africa 5th – 12th November 2016
1B4 Permapackers and Surplus Permaculture Design are excited to invite you on a unique learning experience combining the ancient techniques of natural building with the revolutionary practice of growing your own organic food. During this 7 day course you will be tapping into your ancestral knowledge, digging deep into the soil and grasping an unforgettable understanding of what it means to be self-reliant.
What to Expect from the course?
This course will be held at 1B4 Permapackers. Our aim is to create a supportive learning environment for the duration of the course where trust, compassion, support and connection are built among participants and facilitators.
During this course you will learn:
Learn how to apply the permaculture ethics and principles whilst getting a good overview of how permaculture works.
Gain practical skills in the areas of natural building , soil remediation, plant propagation, and organic gardening.
Course Details
During this 7 day course you will gain the fundamental practical skills needed to develop sustainable, self-sufficient lifestyles. These practical skills will be integrated with theory sessions that will give you a solid foundation into what permaculture is and how to get Back to Basics.  You will get your hands In the earth and become an empowered natural builder and organic gardener, while  living in and creating a dynamic community.  We live, breath and practice Permaculture every day of our life and we are very eager to share as much of our knowledge as possible to inspire you all to become ambassadors of change in the world.
Building homes and growing your own food is a fundamental place to start becoming more self-reliant and you'll learn everything you need in the Back to Basics Workshop to start apply the permaculture ethics and principles in your daily lives.
Practical Component
Participants will learn and work alongside the 1B4 community on various projects. This will provide the participant with practical experience and the opportunity to try new methods and techniques. These sessions will include:
Natural Building – Earth Oven – You will learn how to design and build a beautifully hand sculpted earth oven, perfect for baking, roasting, pizza's and breads. Adobe, cob and earthbag will be our primary building methods along with sculpting techniques and natural plastering. You will learn a variety of building techniques, grow a deep understanding of the materials and be able to experiment with each to find your own style and creativity.
Soil restoration  – Learn to work with soil food web technologies to create a healthy ecosystem and regenerate degraded land; You will learn different ways to produce wonderful compost, compost tea, biofertiliser, green manuring techniques and other soil amendments that promote ecological diversity and abundant healthy food production.
Plant propagation – Develop your green fingers by learning different techniques on how to grow your own plants. Gain a deeper understanding and the practical skills to be able to: Save your own seeds, propagate seed, take cuttings, layering and air layering, division and grafting.
Theory sessions
The theory sessions are designed to supplement the practical sessions and providing the participants with a solid foundation in permaculture.
Permaculture fundamentals – Learn about the ethics, principles and strategies.
Ecological House Design – how to design a house in relation to its surrounding environment so as to work in harmony with the ecosystems it effects. You will learn how to reap the rewards of natural resources so your home works and flows in connection with your lifestyle and needs.
Organic gardening/designing for abundance – Discover the secrets behind designing awesome functional, aesthetic and productive gardens
Accommodation
Camping is included in the course fee for the duration of the course.
For those of you who would prefer an accommodation upgrade, we have dorm rooms, twin rooms and double en-suites available to students. Please enquire when applying.
Course Cost
Course price: R6690
Early bird tickets: R5690                "Available until 30th September 2016" 
These prices include all meals and a place to stay for the duration of the course. We ask all registrants to make a deposit of half the course fee to secure your spot.
Optional Accommodation Upgrades: (Per person, all inclusive)
Dorm room: R7740
Twin room: R8440
Double en-suite: R9140
Fund-raise for you Tuition 
If you are interested in a creative way to come up with funds for this course, look into fundraising for it through WeTheTrees.com. It is a great way to reach out to your family and friends, let them know what you are up to and give them a easy way to contribute to your education.  Don't let a lack of resources stop you from obtaining this important information!
Click on the banner below to learn more:
Contact Information
If you would like to register for the course or have any additional questions, please feel free to contact us on 1b4permapackers@gmail.com or call 082 745 0442.
Meet the Facilitators
Lola Bryon
Lola Byron is originally from Birmingham England. She has been a thriving Permaculturist and natural builder since completing her PDC back in 2009. Following this she was an active urban Permaculturist designing and implementing a variety of community gardens and leading natural building and gardening workshops in and around the city of Bristol, England. With a background in studying and teaching Fine Art and Sculpture she loves to apply these artistic skills to create beautiful buildings from earth, specialising in adobe, cob and earthbags. Having now completed 6 house builds, project managing 4 of these, she is always excited to pass on her knowledge and inspire and empower others to re-connect with the earth, make positive changes and become more self-reliant. Lola has been the natural building manager at Panya Project since 2013, teaching numerous PDC's, hands-on Permaculture and Natural Building Courses, and has recently joined Surplus Permaculture Design an international collaboration of designers.
Kyle Smith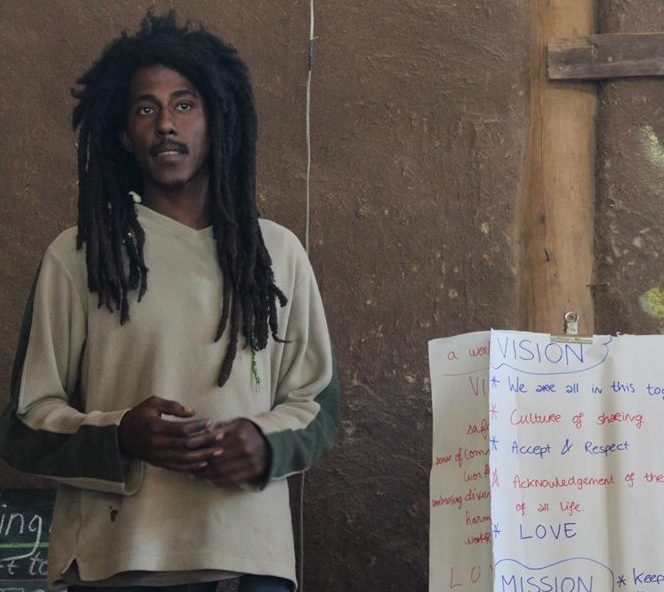 Kyle has practiced horticulture and community living on a kibbutz in Israel where he was inspired to pursue a career in horticulture. During his studies he completed an internship at Soil for Life, a Cape Town based non-profit organization teaching people how to build the soil and grow healthy plants using organic and low-cost methods.  After completing his studies in horticulture he worked at Kirstenbosch Botanical gardens in Cape Town, South Africa. His main focuses were conserving indigenous plant species, rehabilitating degraded ecosystems, designing and establishing education gardens on the grounds of the botanic garden. Kyle is currently the perennial plant manager at Panya and a designer for Surplus Permaculture .He is passionate about conserving soil ecosystems, plant propagation and small-scale ecological agriculture. He is working towards empowering people to grow their own food, become more self-reliant, and regenerate degraded ecosystem.
About 1B4 Permapackers  
1B4 Permapackers is a permaculture farm and  eco backpackers lodge with the focus on sustainable off grid, integrative & abundant living. Situated near Darnall a small sugar cane village  80km north of Durban in KwaZulua Natal.
We plan to be off the grid in 5 years with the help of our staff, backpackers & volunteers. We run year round volunteer packages including permaculture courses such as food security design courses & natural building. Come &  get your hands dirty in the garden, community &/ or wildlife conservation projects.